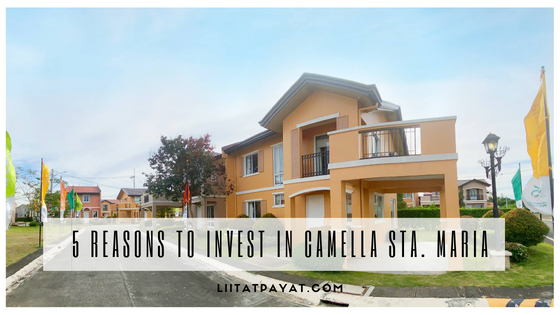 Are you looking for a house and lot in Bulacan, specifically in Santa Maria, Bulacan? Camella has been building developments in prime locations across the Philippines for over four decades with Camella Santa Maria as its banner project in Central Luzon. Additionally, Bulacan is not in a flood-risk zone and far from any fault line which is why it is considered one of the safest places to live in.
Here are the five things that sets Camella Sta. Maria different from similar properties in Bulacan:
Community with built-in amenties
Camella has been creating dream environments believing Filipinos deserve only the best. Camella Sta. Maria is a 32-hectare Spanish-Mediterranean themed community located in Pulong Buhangin, Sta. Maria, Bulacan, boasting of beautifully crafted homes, and soon, vertical villages, replete with amenities like a clubhouse, playground, and basketball court; security features; and open parks and playgrounds.
Safety and security features
Camella Sta. Maria sets the standard in sustainable development by adhering to safety-conscience building practices for all its communities. Homes in Camella Sta. Maria are two-storey structures developed using quality materials and the best technology. Camella partners with construction experts that help guarantee the soundness of homes and the safety of its communities. Camella works with a property management company that ensure preventive and corrective maintenance programs are in place.
Convenient Lifestyle
Commercial hubs like the AllHome Sta. Maria, schools, hospitals, churches, and transportation hubs are also near. It is a gated community with CCTV and round-the-clock security, a high perimeter fence, and safety provisions in each home.
Accessible location
Camella Sta Maria is located near banks, schools, hospitals centers, places of worship, shopping malls and leisure centers, government institutions, transportation hubs and main access roads. What's more rewarding is it's just approximately 40mins to travel from Manila.
Flexible Payment
Camella offers payment options, even customizing financing schemes, to help Filipinos realize their first home investment in a safe and beautiful community. With the introduction of Camella's online buying platforms, home seekers can now enjoy the convenience of choosing how they want to secure their home investment.
Huge investment potential
Real estate is one of the best investments one can put money into as apart from a     tangible asset, it provides an assured future for one's family. Real estate investments appreciate over time and as their value increases, homeowners are guaranteed high returns. They can earn passive income from renting out their property and if they decide to relocate, they can re-sell the property at a price higher than when their initially acquired it. 
Camella Sta. Maria offers homes under the Camella Series, the Grande Series, and Lessandra Series. Alli, Bella, Cara, Dana, and Ella are part of the Camella Series while Freya and Greta are under the Grande Series. Lessandra has on its roster, the Criselle and Ezabelle homes.
For more information on Camella communities in Bulacan or house and lot for sale in the Philippines visit https://www.camella.com.ph/, like and share @CamellaOfficial in social media channels.