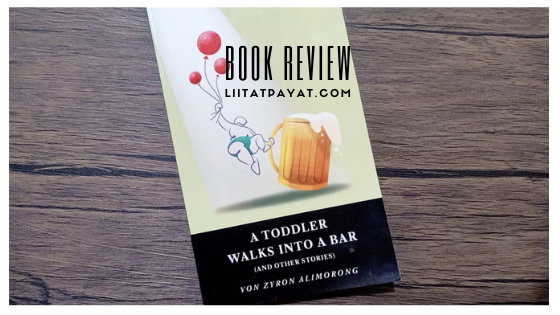 Have you ever wondered what a toddler thinks in this complicated world of ours? Ever thought of what's the purpose of dreams, love or grief?  A  Toddler Walks into a Bar is a fiction novelette that will make you think deeper about the realities of life.
There are five (5) stories in this book with distinct themes – grief, war, perseverance, love and loneliness. Each story will ignite your imagination just like main story 'A Toddler Walks into a Bar'. The characters were beyond fictional because as you read the story, you will come to your senses that 'hey, there's a point.'
"No one is ever born with dreams.

The Dream that the parents make for their child is not the child's dream, but the parents'…

As humans grow older, their dreams go farther into the future, and when they are old enough, their dreams go back to the past.

– Sandman, The Toddler Walks into a Bar "
The main story is about a toddler with a special ability who will visit a bar and a hospital together with a non-human companion. Here the toddler will witness the reality of life – what people can experience after doing good, the pain of losing someone and so much more.
Apart from the story of the toddler, my personal favorite from the book was 'The Morose Trench.' I actually thought at first that I won't like the story because it was post-war story and the first few parts of the story seem so long and I wished it immediately shared the story of Billy and Anastasia. But the author's writing style will allow you to reflect on every scene. Billy was a soldier and lost everything because of the war. He didn't die in the battlefield but his personal battle was far more painful.  For those who want to love reading romantic novels, this short story will give you mixed emotions about loving someone.
'The Morose Trench' isn't just a love story. It will also teach us about grief. I lost my father four years ago and I can truly relate with what Ely (son of Anastasia) said that "no one ever manages grief so incredibly well."
The Toddler Walks into a Bar is a must-read book, and I recommend it if you're looking for a source of inspiration especially if you're going through something.
On living –  "Life becomes so much better when one acknowledges its absurdity. -Toddler"
On loving – "It takes a courage man to do what he advises other." – Doc
On grieving – "It's far better to be healed right than to be healed first. " – Ely
PS. If you'll have a chance to read this book, please be kind to send me a message and tell me what's the funny about the bear and the man in the bar? Just like Weberson I can't seem to understand the joke that everybody knows. LOL