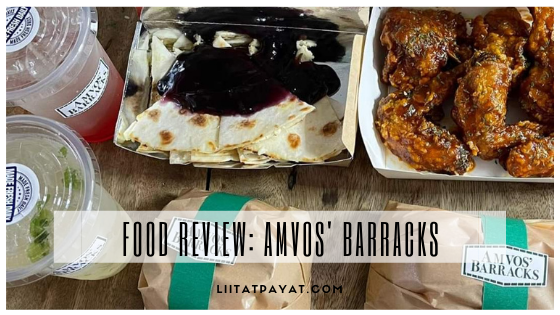 If your taste buds are craving for something new, we recently discovered Amvos' Barracks, an up and coming food store in San Rafael, Bulacan.
I personally found it when I read a Facebook post of recommended online food store in San Rafael, Bulacan. Amvos' Barracks is on the list. So that night, I immediately searched the page and it caught my interest.
Amvos' Barracks Menu
They have an appetizing menu from rice meals, sandwich, pica-pica and non-alcoholic drinks. While the selection is still limited, I can say that it offers a variety of food to choose from.
For our first order, we chose BLT – Bacon Lettuce Tomato, Sloppy Joe, Buffalo Wings, and Blueberry Cream Cheese Quesadilla. For the drinks, Mojito and Cherry.
Here's what we can say:
BLT
This was my mom's choice but I'm glad that I tried it. The bacon was crispy and it has a balanced sweet and salty taste. I also love that their sauce has a bit sharp flavor. Definitely, this is my top 1 for this order. And guess what, one order of BLT is only P88.
Blueberry Cream Cheese Quesadilla
It's my first time to hear a quesadilla that has a dessert flavor. But since I read from the feedback on their page that it's worth a try, I included it on my order. Truly, it didn't disappoint us. This one's a tie with BLT. I love how the tangy quesadilla blended well with the cream cheese and the sweetness of the blueberry. It might be a bit pricey for a snack since it's P158 (but let's consider, it's blueberry and cream cheese).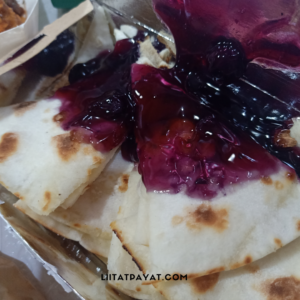 Sloppy Joe
This was my order. I was surprised on their presentation that it has 3 small buns. It was good but the sauce was a bit sour for me. Considering the price of P88, it's a good burger.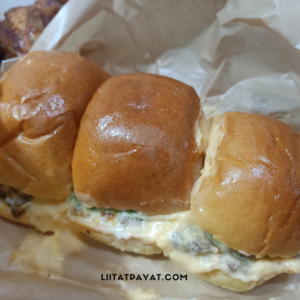 Buffalo Wings
If you're not a fan of the spicy Buffalo wings, you'll love their take of sweet yet a bit spicy wings. For 168, you'll get 6 pcs of medium sized wings. I also loved that their Blue cheese sauce is not too tangy.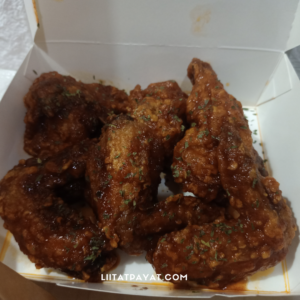 Non-alcoholic drinks
I like how they named their non-alcoholic drunks with alcoholic drinks's name – mojito, Margarita and Cherry Bomb. We tried Mojito – lemon with a zest of mint leaves and and Cherry Bomb. I love their Cherry Bomb because it reminds me of my favorite childhood drink Slurpee from 7/11. They only have medium sized drinks for only P68.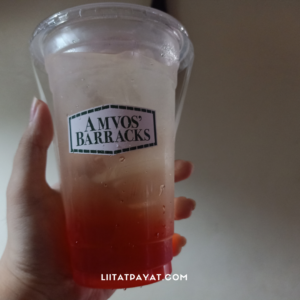 Final Verdict:
Taste: 4.5 out of 5
Serving: 4 out of 5
Price: 3.9 out of 5
Packaging: 3.9 out of 5
Over-all: ⭐️⭐️⭐️⭐️
Amvos' Barracks is definitely a must-try food store in San Rafael, Bulacan. With the set I ordered yesterday, our cravings was satisfied. Though we have yet to try the other dishes on their menu but we'll definitely order again. What's also good is they offer in-house delivery and they respond fast on their Facebook page.
Amvos' Barracks
Address: 59 Caingin Rd., San Rafael, Bulacan
Mobile Number: 09566407713
FB page: https://facebook.com/amvosbarracks
Pickup and Delivery
Note: This is not a sponsored post. We ordered our food.