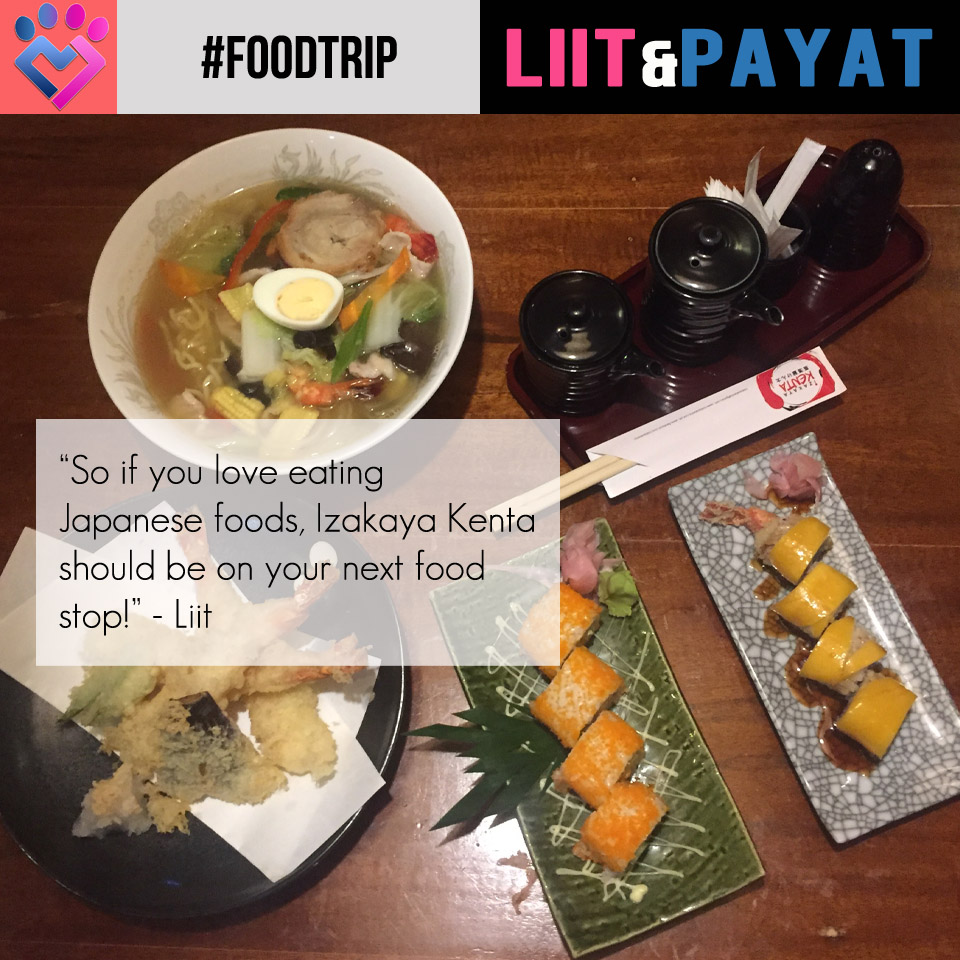 With the diverse selection of Japanese restaurants in the Metro, authenticity has always been the question. But along the busy streets of Malate in Manila, lies a Filipino, family-owned Japanese restaurant – Izakaya Kenta.
Izakaya Kenta had already been a household name in the Japanese food industry. Originally it was located in Pedro Gil, but when "Doc Rey" Medina bought its rights (after it ceased operations), the Japanese restaurant re-opened and moved to a sophisticated location in 2013. This time, it's just a few meters away from Remedios Circle; and a few minutes' walk from Malate Church, Roxas Boulevard, and nearby commercial establishments.
What makes it an authentic japanese gastronomic experience?
From façade to interiors
Your authentic Japanese experience begins the moment you step inside the restaurant. The countryside feel brought by the use of the wood for tables and chairs affirms the original connotation of Izakaya (居酒屋), a casual place for those who are into after-work drinking.
If you have group gatherings, there are also tatami rooms or private rooms are also available to cater small group and exclusive gatherings. Every room is accentuated with tatami mats, which came all the way from Japan.
Here's the catch: The tatami rooms have a unique design. There's a space apportioned below the dining table. In this way, customers can avoid knee numbness and still experience the traditional Japanese style.
From presentation to taste
In Izakaya Kenta, your Japanese cravings will surely be satisfied. As the old Chinese proverb says, "a good meal is eaten first with the eyes, then with the nose and finally with the mouth. Satisfy these and the stomach will rejoice."
Izakaya Kenta's picturesque presentation of its dishes flavours the customer's expectation of the taste and stimulates his appetite.
If you're a sushi lover, their hand-pressed sushi are carefully molded and draped over with topping. The raw fish and meat of the popular Japanese delicacy sashimi are perfectly sliced into thin slices draped over a garnish. Its typical garnish is Asian white radish, daikon, shredded into long thin strands, accompanied by green perilla leaf. All seafoods and other ingredients are guaranteed very fresh because they are shipped daily from Japan.
Wondering who's cooking the foods? The restaurant's Japanese Master Chef is Chef Dennis Ganzon, who has more than 20 years of experience in the local and international kitchen. Chef Dennis also served as the head chef in the original restaurant preserving the recipes well-loved by its customers.
Together with Chef Dennis is the eldest of the Medina children who has a background in culinary from the Center for Culinary Arts in Manila and a graduate of the Sushi Chef Institute in Torrance, California.
Chef Ian's contribution to their family-owned restaurant is preserving traditional cuisine while infusing modern taste is. He crafts new sushi recipe like the Nippon steak maki; and adds twist to the customary sushi.
And how much does it cost to eat at Izakaya Kenta?
You might be surprised upon checking Izakaya Kenta's menu that it's not pricy compared to other fine dining restaurants. "Pag Filipino, ang tingin sa Japanese food mahal agad, pero abot kaya naman," clarifies Architect Elwyn, the youngest among the Medina children who designed the restaurant.
Chef Ian considers the dining experience is "sulit." Every dish comes with an authentic Japanese touch and is served in big portions.
So if you love eating Japanese foods, Izakaya Kenta should be on your next food stop!
Izakaya Kenta
Address:
Ground Floor, Malate Bayview Mansion, 1781 Adriatico St, Malate, Manila, 1064 Metro Manila
Article originally published in Balikbayan Magazine and republished in FoodFindsAsia.com