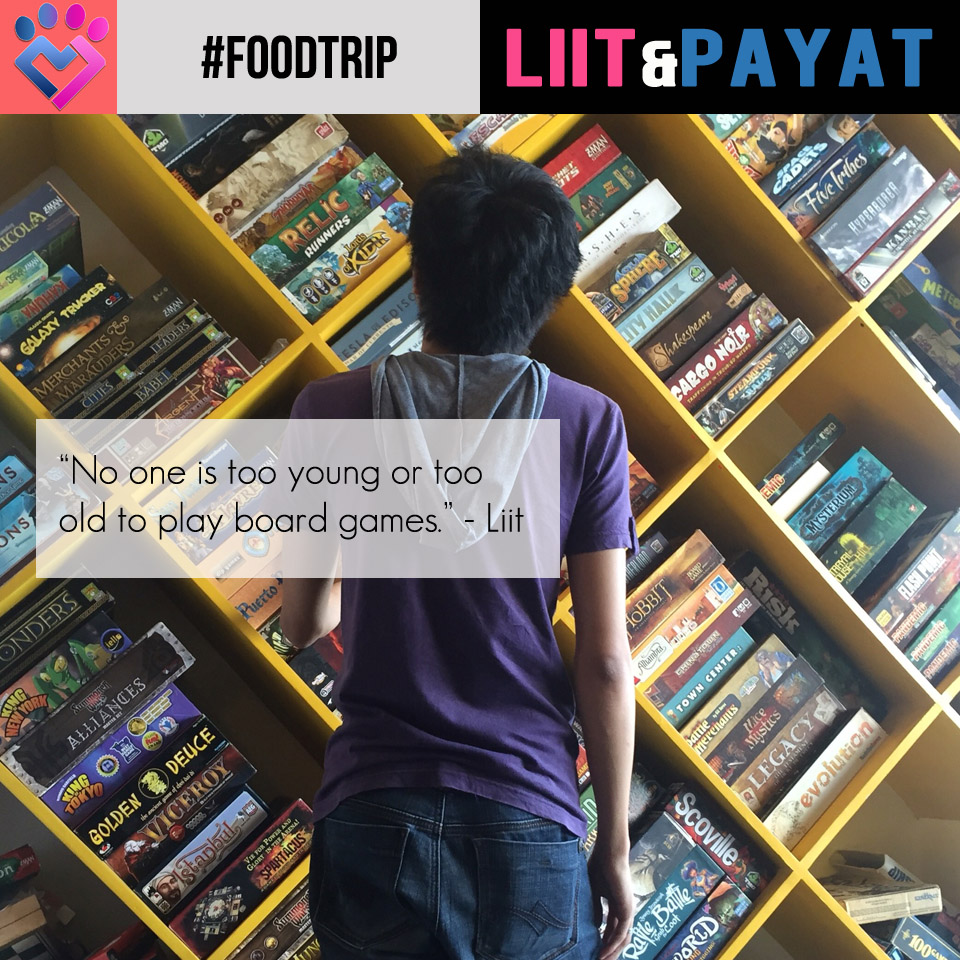 Eat a sumptuous meal or play your favorite board games?  Why choose between the two when you can enjoy both at the same time and at the same place? Located in the newest go-to places in Makati City, Onboard Game + Gastro Pub combines the best of both worlds – food and board games – and makes every barkada, family and romantic get togethers more fun and memorable
Opened last December, Onboard started with a group of friends' love for playing games that led to the concept of sharing this fun experience to more people. Now, you don't need any more to purchase board games from the store to experience the game. You only need to spend your time at the game pub, order your preferred food and choose from over 600 board games available.
"It started out with kami-kami na magkakaibigan. We really enjoyed playing board games at home. So, we used to buy board games and then we bring it to a friend's house. Minsan kasi mahal when we buy it individually. So naisip namin, since a lot of people are enjoying board games, we want to give them the experience of playing it na hindi nila kailangan bumili ng actual board games," shares Leica Moreno, one of the owners of Onboard.
Playful Foods
Because awesome games deserve equally fantastic grub, Onboard offers delicious pub treats that can satisfy even the hungriest gamer. Guests can choose from the wide selection of carefully thought menu.
In fact, game mode starts when you're choosing from the menu. Each categories on the menu have corresponding game-like names. Game starters for appetizers such as finger food and bar chows. Liquid Play for soups, broths and other forms of liquid magic. Whirl + Toss for salads, greens and all things lean. Bring out the big buns for Angus burgers and magical sandwiches. The Italian Job for pastas in wonderful variations. Bigger, Better and Flatbreads for crispy crust with fantasmic toppings. Main event for the main dishes. Superbowls for rice bowls with power toppings. Creative isn't it? But wait until you've tasted their food. It's also playful!
Yes, you read it right. Every food served comes with an exceptional taste. Together with their in-house chef, Chef Mitchie Sison, they come up with inventive foods that are only served in OnBoard. It may be different compared to the traditional foods we know but it's more than delicious.
One of which is their bestseller Nacho Hai. You may thought of nacho chips for this appetizer, but you're completely wrong. This game starter consists of freshly made fried wanton chips. Aside from its uniqueness of ingredient, the dressing will definitely take you away!
The "Cool" bestsellers are milkshakes and their mega milkshakes. One of which will surely make you like a champ. For chocolate lovers, you should definitely try the Ferrero Nutella Landslide. It's not just one chocolate but five finest chocolates combined.
If you love pizza and have a sweet tooth at the same time, Onboard's sweet treat of dessert pizza will suit you. Their very own Nutella pizza is made from flatbread dough topped with Nutella, fresh lush strawberries and bananas.
Onboard also have beverages to quench every gamer's thirst while playing board games. For the young ones, they have mocktails (non-alcoholic mixes) and juice blends; and for the daring, there are beers from Craftpoint Brewing Company and other local, Belgian and American brews.
Games for Everyone
No one is too young or too old to play board games. In Onboard, everyone is welcome to eat, drink and play. With its laidback pub atmosphere, millennials, young couples, and even the whole family can enjoy their bonding. The type of food and board games are not limited to just one generation.
"Merong misconception na parang for kids, pambata lang (ang board games). We want to spread the word, parang even if you're old, there's a place for you, there's a game for you. We assure you that you'll find you're perfect game somewhere in those shelves," Marvin shares with #FoodFindsAsia.
So get on board in Onboard and make your next food trip experience with your loved ones more fun with hundreds of board games!
Reservations are highly recommended! You can book your tables at 0922-8866823 or 02-3403560
---
Article originally published by Liit in FoodFindsAsia.com