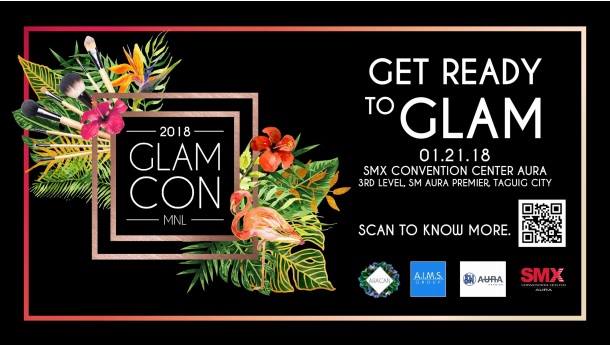 This year 2018, I'd like to continue one of my goals last year — invest on yourself. That's why when I learned about Glamcon MNL 2018 I can't help but be interested. I'm not really the 'kikay' type of girl but working in the corporate world I know that I must bepresentable all the time. Here are four reasons why you shouldn't miss the biggest beauty party of the year happening on January 21, 2018 at SMX Convention Center Aura:
1) #ExploreTheWorldofMakeup
We all know that beauty is found within, but a little lipstick and a swipe of mascara never hurt anyone!
Despite the many advances of society, wearing makeup remain as something a person turns to when trying to hide their imperfections. Though this is a big part of the reason why people wear makeup, we must also remember that makeup is used to bring out our best assets!
Glamcon MNL believes that there is no shame in putting on makeup. It is an art and a form of expression of one's creativity. Anyone rocking a sharp wing liner or a natural looking drunk blush is just as beautiful as their barefaced self.
Moreover, Glamcon MNL wants to remind every Filipina —and Filipino, that there are no rules in wearing makeup, so feel free to explore and experiment with colors, shapes, and contour shades.
It does not matter whether you prefer a no-makeup makeup look or a full on glam wear your look loud and proud!
The Makeup Lounge
Styluxe Salon and Paintbox Artistry have partnered with Glamcon MNL 2018 to give premium ticket holders a real treat: free hair and makeup makeover! Our premium makeup lounge is a haven of transformation for Queen and Diva ticket holders, Glamcon goers who want to look their best at Manila's biggest beauty party!
2) The #GlamGala Stage
Aside from the opportunity to interact with the biggest and brightest stars of the beauty industry, Glamcon goers are in for a treat all thanks to the makeup gurus strut their stuff on the Glam Gala stage!
Learn about building your very own makeup kit from Ana Victorino in her Makeup 101 talk.
Jessica Godinez, together with Ciracle will be making sure that Glamcon goers know how to take good care of their skin during the Daily Skincare Routine segment.
Raiza Contawi will be combining fashion and makeup as she teaches us how to use makeup to complement our clothes in the Color Wheel segment.
Micah Munoz, Ronan Domingo, James Burn and a few more of our favorite boy friends, together with Cosrx, are going to lead the Men's Skincare segment.
Plump.ph Stacy and Dana Guttierez will show us that beauty knows no shape or size during their panel talk, Beauty on Our Terms.
Ning Tadena will be teaching Glamcon goers life hacks into becoming the best they can in Mindset Makeover: Unlock the Diva.
Isha Borromeo, Joyce Sola, Bing Castro, Kristine Roces, Kris Lumagui, and Nina Rayos will be leading the Power of Makeup panel talk.
Host Say Tioco will make sure that the fun never stops through games in between each segment.
Riot Logic, Bea Lorenzo, Leanne and Naara, Coeli, Haru and Ysanygo will also be present to serenade Glamcon goers.
3) #GlamSchool
Glamcon goers are set to learn from the best as the Glam Gurus teach them some of their very own tips and tricks in glamming it up with makeup. The #GlamSchool is especially created to serve as a one-day makeup boot camp for everyone who wants to amp up their makeup game.
Ning Tadena will be showing everyone how to achieve that natural looking no-makeup look every girl needs to learn in the Bare Necessities segment.
Experience the magic of contour and highlight with Paintbox Artistry at the Makeup Plus segment.
Show off your proud morena skin in the Bronzed Babe tutorialby Jessica Godinez with Paprika Cosmetics.
Learn all the eye makeup essentials from brows, to eyeliner,to blending your eyeshadow in the All About Eyes segment with Michelle Dy.
Stand out from the crowd with Hollywood Starlet makeup tutorial again with Paintbox Artistry. Show of your sexy side with the Valentine Vixen tutorial and strut your glam self with the Boss Lady tutorial to be led by Anne Clutz.
 4) FREE makeup beauty goodies!
Glamcon MNL 2018 goers won't be leaving the gathering empty handed as leading makeup, skin, hair, and nail care brands join Manila's biggest beauty party.
Get top-notch makeovers from Styluxe Salon & Makeup Studio. Add more colors to your look with Paprika Cosmetics' beautiful eye shadows. Salon Vitales hair and makeup experts are going to make sure everyone is looking glam. While local skin care brand iWhite is sure to bring the bestskincare products for the beautiful Filipina skin.  
EssLiv will make sure that Glamcon MNL goers get only the best skincare products by bringing one of Korea's top skin care brand, Ciracle. Makeup Revolution will also make sure that our makeup looks are a hundred percent on point.
VMV Hypoallergenics is going to bring high-quality skincare products for all skin types. Meanwhile, the Skincare Curator will be bringing Cosrx and Neogen to the (makeup) table.
Colourette Cosmetics will be showering participants with their fabulous lipstick shades. Inglot will also be making sure that attendees go home with something that would make them look on point on other special days after Glamcon.
Sip will be making sure that everyone stays hydrated all through the day, and Wit's Sweets and Savouries will make sure that everyone has something delicious to snack on the entire day.
---
Excited to attend? Get your tickets here: http://glamconmnl2018.peatix.com/
No credit card? Go to this link instead:https://goo.gl/forms/gdwgH0YKUnyTwiwF2