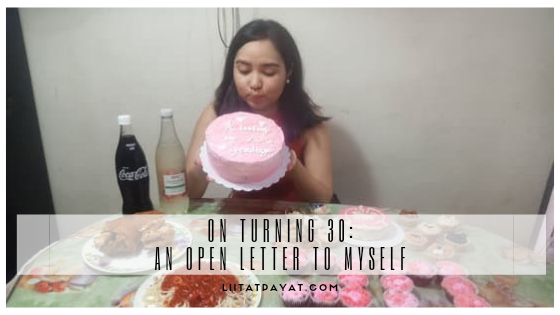 Dear self,
Congratulations! You made it this far. You're now part of the 30s Club. It feels like just yesterday when you were playing with Barbie Dolls while watching to Spice Girls and Destiny's Child. Before it was just thoughts of "what would I be when I turned 30?" but now that you are officially 30. It feels surreal, right?
I can't be any prouder that you survived the challenges during teenage and young adolescence years – not to mention the last two years were a lot different and challenging due to the pandemic.
Almost four years ago, I saw how heartbroken you were when Daddy gone to heaven. You never saw it coming that soon. But no matter how painful it was, you need to be strong because that was what Daddy wants you to be.
Moving forward, when Covid19 came, there was a bit of relief. If Daddy was here when there was a pandemic, he's more prone to the virus because he has an autoimmune disease. Aside from saving Daddy ahead from severe health problems if he was alive during this pandemic, there are also other things that I am thankful for.
Who would have known that a month after you resigned from your previous job that there will be stricter lockdowns? From a stable job to no work, no pay, life has mysterious way of surprising us, huh? But I guess it was one of the best decisions that you won't regret.
June 17, 2020
On the last year of being 20s, you have finally started your own business! Together with your boyfriend (husband now), you made it despite the struggles during the pandemic. It was good that you both have savings and you made good use if it by starting a business – online pet store and dog cakes and cupcakes.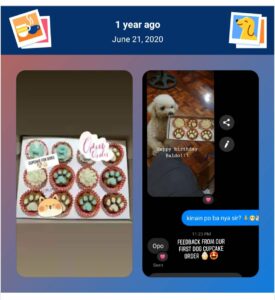 Your vision and mission started with being able to give dogs in Bulacan a delicious cake that's just within the province. Because you know how difficult it is to look for one.
Just like any other startup business, starting is and will never be easy. Coming from a marketing industry, you know that promoting a new brand, you need lots of hard work and patience. What even made it more difficult is the pandemic. Will the furparents spend knowing that they might have no work too or are struggling financially? But you didn't give up easily.
And now, Paws and Hooman just celebrated one year! Congratulations to all your hardwork! Paws and Hooman has started to build its name in Bulacan as the baker of cakes and cupcakes, not just for dogs but also for cats too!
Do you still wonder what life could have been without Covid19 or do you have regrets on turning 30? I think it's normal to think of what if sometimes. But I can see that you finally accepted everything happens for a reason and God has a better plan, better than what we planned.
For those who are turning 30 too this year, don't be afraid. Age is just a number. It's never too late to chase your dreams. And don't ever be discouraged with the pandemic. You'll never know what positive things this season can bring to you if you won't make a step and try.
In Journalism we write 30 at the end of the page to signify the end of the story…
I kissed my 20s goodbye and I am proud to say that I survived two decades of roller coaster.
Cheers to 30!
Your survivor self
PS. If you have a business concept in mind, go for it 🙂 You'll never know if papatok until you try ?
---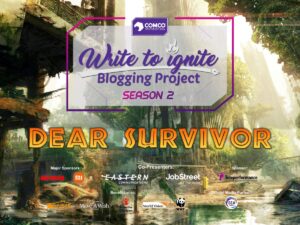 This story is an entry to ComCo Southeast Asia's "Write to Ignite Blogging Project Season 2: Dear Survivor". The initiative continues to respond to the need of our times, as every story comes a long way during this period of crisis.  The initiative aims to pull and collate powerful stories from the Philippine blogging communities to inspire the nation to rise and move forward amidst the difficult situation. The "Write to Ignite Blogging Project" Season 2 is made possible by ComCo Southeast Asia, with Eastern Communications and Jobstreet as co-presenters, with AirAsia and Xiaomi as major sponsors, and with Teleperformance as sponsor.