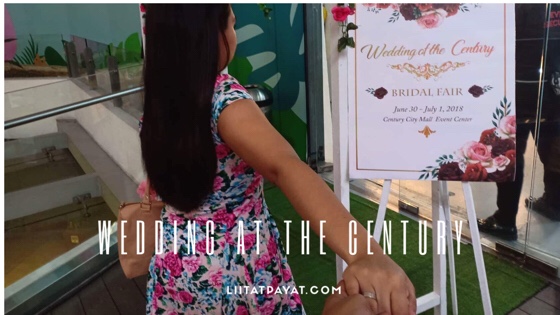 Nothing beats preparing early. That's why when we received an invitation to Century Mall's bridal fair dubbed as "Wedding at the Century," we didn't hesitate to say yes. For soon-to-wed couples who missed last weekend's event, here are some of the highlights:
1. New local wedding suppliers
We've attended a few bridal fairs before. I think this is the 3rd one if I'm not mistaken. The suppliers I met during Wedding at the Century were totally different from the ones we met in previous bridal expos we attended. There were only a few suppliers this time but this allowed every couple to take time talking with each supplier.
Among the suppliers that caught our attention were:
What I loved was their lighted cake which was very affordable. For only Php 7,500, you'll have a 4-layer cake with a light effect. Two layers of which are edible. They also have the plain 3-layer cakes which starts at Php 8,000 (all edible) depending on the design. Unfortunately, we weren't able to get a taste of their sample cupcakes because they ran out of stock already.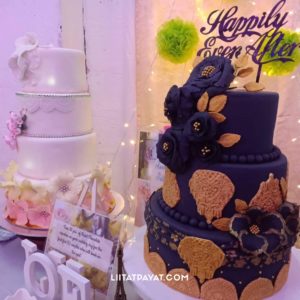 Marco Constantino standout for us because they can capture the spontaneous moments. What's even exciting they offer budget-friendly packages. Their photo and video package start at Php 30,000.00.
Robes by Kim Jao
There was only one bridal robe supplier during the bridal fair. The robes were simple yet elegant. Price ranges from Php 900 (short robes with 5 letter embroidery) to Php 4,000.00 depending on the style and cloth used.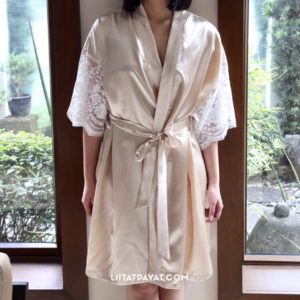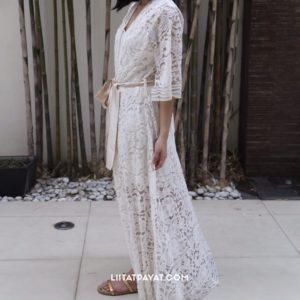 2. Fashion show from up and coming fashion designers
The highlight of Wedding at the Century was the fashion showcase of wedding gowns and suits from designers Edwin Uy, Dave Ocampo and Chynna Mamawal. Unfortunately, we weren't able to witness this because it was held during the first day only. We were told that there will still be a fashion show on the second day but it turns out there was none.
3. Food Tasting from Le Chef by Billy King
We were given a coupon for the food tasting. However, we didn't have the chance to partake in the wedding themed entrees and desserts which Le Chef served because there was no food left. It's also confusing how to avail the food tasting.
Just like other bridal fairs, the suppliers offered exclusive discounts and freebies during Wedding at the Century. There were also free trial makeup from HMUA suppliers. I wasn't able to try because they require to have a wedding date so I can't recommend any HMUA supplier here.
Here's a directory of the wedding suppliers:
LIGHTS AND SOUNDS
Auc Inc.  – 0917-138-2229 / [email protected]
FILMS, VIDEOGRAPHY AND PHOTOGRAPHY
Visuals by Alaz – (+63) 917 112 5566 / [email protected]
Marco Constantino – 09052130411 / 09778363258 / [email protected]
Time Capsule: Art House Production – 09950158015 / 09151096924 [email protected]
Slam Production (also offers Bridal Makeup Packages) – 0977-8535181 / [email protected]
PHOTOBOOTH
Party Studio Manila – 252-45056 / 09175408575 / [email protected]
Photo Strip Party Booth – 09179936105 / (02)2524056
WEDDING RINGS
Matus  – +02 706 5391 / +63 998 564 8349 / [email protected]
PARTY VENUE AND CATERING
LE CHEF by Chef Billy King – 0917-8370609 / (046) 419-8190 local 127 / [email protected]
Plaza Ibarra – 922-6868 / 0998-9881336 /[email protected]
City Garden Grand Hotel Makati – +63 2 888-8181 loc 1214 / +63917-5723486 / [email protected]
MAKEUP AND SKIN CARE
CRÈCHE Skin Care Center (for Bridal Rejuvenation) – 09178786048
Makeup by Rose Pedayo – 02-9789801 / 09060679175 / [email protected]
Hanna Pechon Professional Makeup Artist – +63-917-507-9564 / [email protected]
AILEEN MAY Hair and Make-Up Artistry – 09477789438/ [email protected]
WEDDING COORDINATOR
4:13 EVENTS PRO – 0975-365-8093 / (046) 489-5498 / [email protected]
Amore de FleurPH  – 02-5074535 / 09989925157 / [email protected]
Samnice Wedding and Events Management – 0928-2998-421 / 0906-5366-182
WEDDING CAKES
SWEET CRAVINGS by Khai's Cake & Pastries – 0977-2774047 / 0922-80155913
REENZSON'S PATISSERIE – 0935-9324317 / 0936-3242688
D&D CAKES ETC. – 0915-2483296
BRIDAL ROBE
Robes by Kim Jao – 09178802990