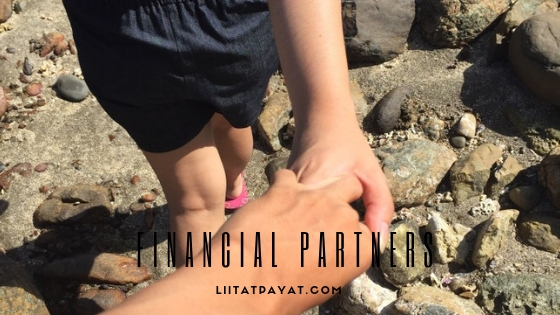 The couple that grows money together, lives happily ever after. We've been together for almost four years and I'm proud to say that we have achieved our goals together. I'm 27 years old and he's 30 years old. Both of us have our own Variable Life Insurance policies. We have a savings account and a mutual fund investment. Recently, we just used a portion of our savings for the downpayment of our future home.
You might think that we're not having fun because we're saving and investing. But just like other couples we still go on a date. We love food trips and travel adventure. In fact, we celebrated our 3rd anniversary in Catanduanes. Here's more, we also have two (now) four fur-babies who are very much spoiled to us like real babies from dog food to accessories. My point is we're very much enjoying while we're accomplishing our goal to grow our money together. We don't earn high salaries and sometimes we have limited budget. So what's our secret in achieving our goals?
We are each other's financial partner.
We are committed in working together for our future. I'm glad that when I told my boyfriend to look into life insurance and mutual fund, he didn't hesitate and met with my financial advisor. I didn't force him to get a policy and invest our money in mutual fund because we have the same goal for our future.
We admit that there are times when we are tempted to spend on luxuries (new phone, camera, have a date on expensive restaurant, etc). But because we both share the same goal, we don't need to constantly remind each other to focus on our goals  – get married soon and have our own business for our future family. There's nothing wrong to enjoy and have fun, but to be able to live our lives to the fullest in the near future, we need to prepare now.
Our milestones together
Currently both of us have a Variable Life Insurance policy with a life coverage Php 500,000 that corresponds to an annual premium of Php 12,000.00. So from our salary, we allocate Php 1,000.00 every month. It's a little sacrifice of not going on a regular movie date and eating dinner in a fast casual restaurant.
Both of us don't belong to a rich family. That's why it was a good decision to get a variable life insurance (VUL) because this kind of insurance provides a life coverage and at the same time grows our money. This means, we can enjoy our money and use it for our personal/family needs while we're still active.
We also have have invested in a mutual fund since the minimum amount to open an account was just Php 5,000.00 and whenever we have an extra budget, I invest Php 1,000 to our mutual fund.
In a generation where fancy dates and grand gestures trend online, I hope that you won't be deceived and make this as your standard for relationship goals.  Don't look for someone who will only give you roses, balloons or take you on out of the country trips. Be with someone who shares the same direction you have in life and will help you achieve your goals.
I'm so thankful that God gave me someone worthy to be the father of my future children. Now I know that I'm not alone because as early as now both of us are preparing for our bright future. The past year has been tough for me when my father passed away. His death prompted me to make big decisions which include buying a house so I can get my mom. And this would mean, spending a portion of our savings for the downpayment of our new home. But my boyfriend didn't hesitate to let me use our savings. As my financial partner, he supported me and helped me make wise decisions. Money matters can make or break a relationship. And I can never be any happier because it made us stronger.
No matter how strong and independent you are, it's still best to have a financial partner. Aside from your loved ones, there are also people from trusted financial services company who can help you achieve your financial goals. Just like me and my boyfriend, we have our financial advisor-turned-friend who guides us with our investment portfolio. The road to financial freedom is never easy but having a financial partner forever will help a lot.