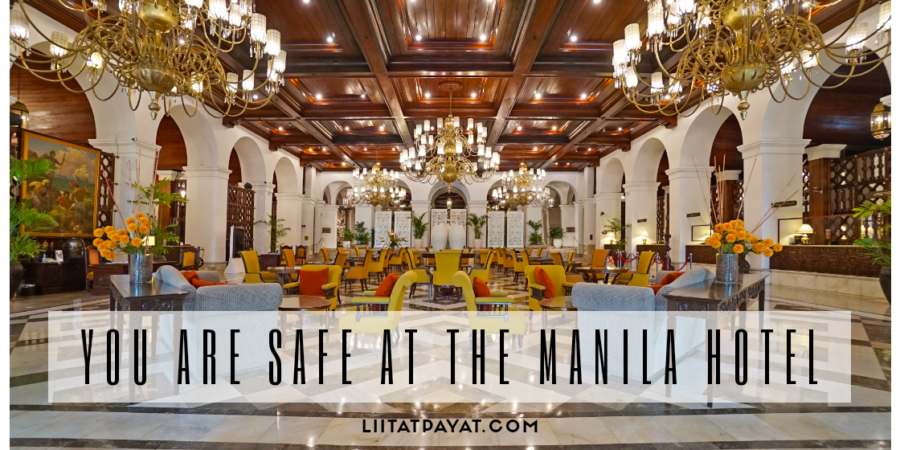 Just a day before the historic hotel's founding anniversary, The Manila Hotel partially opened its doors to its valued guests, with the famed Café Ilang Ilang, the Lobby Lounge, and the Delicatessen resuming operations on July 3, 2020. A rebirth of sorts after months of following the government's quarantine protocols, the hotel has adjusted along with the rest of the world in navigating the "new normal," and puts a high premium on the well-being of guests. 
With the lobby shining bright anew signifying eternal hope, The Manila Hotel commemorates its 108th founding anniversary on July 4 by welcoming guests with an enduring brand of service that is now focused on enhanced health, hygiene, and sanitation protocols in line with DOH guidelines.
As the hotel prepares for the reopening, Atty Joey Lina, the president of The Manila Hotel, assures the public, "You are safe here. We have taken every precaution to heart so you and your loved ones can have peace of mind when you visit or stay with us."
To its valued guests who are waiting for Café Ilang Ilang to open, The Manila Hotel offers its 108th Anniversary Promo that gives the first 108 customers for the first 108 days of its reopening (including Saturdays and Sundays) a special dining rate of only Php1,250 for lunch, and only Php1,550 for dinner. Café Ilang Ilang likewise returns with a new system for dining where guests can "order and eat all you can," meaning they can order as much food as they want from the selection of dishes at a fixed price.
Both Café Ilang Ilang and the Lobby Lounge will be open with limited seating capacity. Thorough sanitation procedures will be implemented, and guests can order using disposable menu, eat using cutlery in sealed containers, and even use tables with acrylic dividers. Front-facing personnel communicating with guests like Guest Services Officers (GSOs) and waiters will don masks, gloves, and face shields. To limit contact with guests, Café Ilang Ilang is also fine-tuning its contactless ordering and payment system.
Adopting best practices, the hotel launches a comprehensive initiative to assure its patrons they are safe at The Manila Hotel. High-traffic public areas will have hygiene reminder signages and distance indicators, and guests will be asked to undergo mandatory temperature checks, and health declaration procedure. Limited capacity will also be implemented in elevators, while several hotel facilities will remain closed including the spa, swimming pool, gym, and other areas.
High-touch points like door handles, elevator buttons, public area furniture, and others will be sanitized multiple times per day using UV technology. Tests reveal that UV sanitation greatly reduces the bacteria count on surfaces, as demonstrated by lower RLU readings—whose value is used as a measure of surface cleanliness—after the procedure.
Barring announcements from the government to the contrary, the hotel also plans to start accepting room bookings by August 2020. The public will be assured of rooms thoroughly cleaned first with UV-C light technology to eliminate germs, bacteria, and viruses; followed by medical-grade sterilizing and disinfecting solution. A change of fresh and sanitized linens; sanitation of touch points in the room including remote controls, lamps, etc.; and thorough bathroom disinfection are also art of the procedure. Guests will also receive personal wellness kits, issued a UV-sanitized keycard, and arrive to guestrooms with a seal of assurance that they are the first to enter the sanitized environment.
Because taking care of its own people means they can take better care of guests, The Manila Hotel has invested on testing its staff upon return to work to ensure they are healthy. The culinary team strictly adheres to stringent protocols on proper hygiene, hand washing, and food handling. Staff will be required to wear PPEs as needed, and a strict implementation of distancing measures will be done in the offices, front desk, and other areas frequent by guests.
The Manila Hotel looks forward to welcoming both loyal and new guests with the kind of service it is known for, with the assurance that "YOU ARE SAFE HERE" is not just a tagline but a commitment it truly means to uphold.